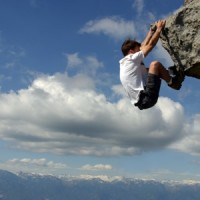 Lately I've had what for me is a very long break in posting, almost two weeks since my last post.  I always have more things to write about than I have time to write and usually when my posting slows down it's a reflection of my time constraints.  A break of this length is very, very unusual, since writing is a bit like breathing for me and I've had time to write.  So why haven't I posted in so long?
The reason I haven't been writing is because…. I haven't had the emotional energy for it.  
When we were preparing to make aliyah three years ago, I had many fears and anxieties about what we were doing and I had to very actively and consistently work with my thoughts to moderate them so the fear wouldn't overcome me.  We would be moving with a family of 11, nine children including several teenagers, a stage of life in which families are strongly advised not to  make aliyah.  We made the decision very quickly and hadn't spent years saving for it, so the savings that we had in place would have to suffice.  Since we had lived in Israel after marriage and legally changed our immigrant status then, we wouldn't be entitled to any financial benefits that new immigrants receive, despite not having received them all those years before.  I wanted to buy a home so our family would have the stability of having our own place, but everyone advised against this and buying a home in Israel is complicated and very expensive.
I shared about the general things we were moving towards but didn't detail the intimidating specifics (in large part financial) at that time since writing about them felt like giving too much weight to my fears.  I was trying to do very difficult things and any energy spent talking about it was going to take away from my energy in moving forward.
When we finally got through the process and moved here into the home we purchased from overseas, I was able to take a deep breath.  We did it!  And then I regretted that I hadn't detailed  all that I was doing and what I had to do in order to make that move possible because it was an incredibly intense time of fears and faith.  It took a lot of physical effort but even more than that, it took enormous emotional strength.  I actively worked on trusting the process every single day and believing that everything would work out, even when roadblocks kept coming up and it seemed it just couldn't happen the way I was picturing.  I credit our move to that faith but it wasn't easy at all; developing faith was a very active and conscious effort for me at the time.
I've been feeling very unsettled lately and emotionally it's very similar to how I felt when we were getting ready to move to Israel.    I have some fears that are taking a lot of energy to actively manage so that they don't become overwhelming and this is a big part of why I haven't wanted to write.   It's much easier to share about hard times when they're over and successfully resolved, and I'm smack in the middle of a lot of insecurity and uncertainty.  
My husband has currently been unemployed for two months and we were just notified several days ago that we won't get unemployment benefits for that entire period because he missed a check-in meeting a couple of weeks ago that he didn't realize was mandatory.  It's not their fault that he didn't understand the rules properly, but that was a hard blow for me since it was money we were relying on.  Making aliyah is an expensive proposition but we expected and planned for that.  What we couldn't have planned for was repeated hospitalizations of our kids and the accompanying increase in  expenses and simultaneous drop in income.  Thankfully we had reserves because that's what got us through all of that but that couldn't be expected to last forever no matter how incredibly frugal I was and it hasn't.  
In America there are social nets that help people in difficult situations that don't exist here so struggling there looks very different than struggling here.  Being a person who has always lived simply in order to avoid debt and have money set aside for emergencies, I don't have a high level of tolerance for financial instability and so I have a lot of fear about this right now.  I look forward to sharing the amazing things that happen for us to change this situation and do believe that things can literally change from one day to another for the better but this is where it's at right now and it's very hard.  
On to the next thing, our plans to move.  After four months of analyzing the particular community we wanted to move to and finally announcing our decision when it was definite, it's become clear in the last few days that we need to change course.  That's a very sudden change.  While I tend to make decisions quickly, I don't do it rashly and I certainly don't tell people about something until I'm very, very sure of it and thought through all aspects of it.  Changing a decision like this that had so much forward motion isn't easy and means I've had to consciously let go of my vision and be open to something else.
Why the change?  There are a number of factors but the biggest one is It's become clear to me that my husband needs to be near the Tel Aviv area for work since most of the jobs available in his field are there.  We were recently told by someone who trains and places technical writers that it's easier to find work in the north than to find work in Jerusalem, and since we live in the north we understand what that statement means.  It's not easy at all to find work in his field in the north.  In the area we were planning to move to, working in Tel Aviv would necessitate a 2.5 hour commute in each direction daily, which isn't feasible.  Right now I consider it of critical importance that he be best positioned where there are the most prospects for him in terms of employment while still being commuting distance to Jerusalem for my older kids.
As far as the actual moving plans – that's also being affected by our changing decisions.  We were planning to stay here while our home was for sale, giving my husband time to look for work and then moving into a home we purchased in the other community at the end of the summer.  We're now in the uncomfortable position of needing to move so that my husband can find employment in the area where there is work (in Israel, employers generally only consider hiring those who live close to where work is, so being hired first and moving later isn't a commonly accepted practice).  But in order to move, you need to have a job so you can demonstrate your ability to pay your rent to a potential landlord.  It's a catch-22.  
My husband and I have discussed this and decided we won't move until he finds work, and he will live away from home during the week if necessary.  This way he can be local for hiring purposes but we don't have to move until we have a stable income.  Hopefully he'll find work very soon, but even if he's hired two minutes from now we won't move until after Pesach (Passover).  Since we aren't interested in buying a home in the new community at this time, we've taken our home off the market and will rent it out instead.
I've decided on the larger area we'll move to (I think – I'm afraid to assume anything is definite anymore) and narrowed down the neighborhoods we're considering to two, and need to do some more research to determine which would be better for us at this time.  One is more expensive than the other but would be better socially; the other is less expensive but socially we can't tell yet what it's like.  When I told my mother what community we have in mind, her jaw literally dropped – it wasn't what she would have expected and it's not what I would have expected, but I think it has the potential to be very good for the entire family despite it being a big shift.  I'll share about that when there's something more specific to talk about.
Right now I'm trying to balance needing to move forward and being unable to move forward.  It's not easy.  Very little is in my control right now and though intellectually we may know that none of us really have control of anything, sometimes life allows us the illusion that we have control and that illusion is comforting.  Many of  my illusions of my efforts making a difference have been stripped away and to say that's uncomfortable is putting it mildly.  
Almost every day I have times that I feel anxious or fearful, and then I remind myself that I need to do my part and God will help me.  It may not come the way I want or when I want, but it will come and it will be good.  And when it all works out, I'll be able to share it with you because now you have a context for understanding that those good things didn't always come quickly or easily for me.   
Avivah