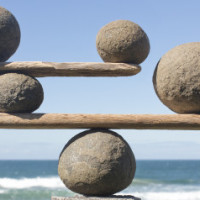 After taking a few days to think about it, we decided to put our home back on the market to sell.
I was feeling pressured trying to rid my home of dust or dirt to meet the exacting standards of potential buyers – my kids said it's been more intense than Pesach cleaning!  After scrubbing and scrubbing, taking out all the windows and screens and washing them all, cleaning out the window tracks, dusting off the tops of the cabinets and window blinds boxes (don't know who would have looked there but…..), I didn't feel like my home looked better at all.  In fact, with my laser focus on dirt, I kept seeing more areas that needed to be cleaned.
Our agent wanted other agents in the city to come by yesterday to see our home since she said it's better when the buyer's agents personally see the home in person rather than just with pictures.  I was getting more and more uptight as the morning ticked on –  I was doing so much but didn't have a significant feeling of progress.  When at noon I walked into the younger boys' room and saw that ds7 decided to reorganize his shelves and move everything into a pile next to his bed and ds11 put the linen on their floor instead of where I asked him to put it, I almost burst with frustration to see a room that I thought was finished needed to be cleaned again when I still had so much to do.  
My husband was home and heard my mounting tension, and suggested I rest and try to unwind a little.  Good idea.  I was taking this waaaaay too seriously.  I asked him to let me know when a half hour went by, so I would have an hour to get things finished up before they came.
I went upstairs and chose a recording of Dr. Bernie Siegel's to listen to, Meditations for Overcoming Life's Stresses and Strains.  It seemed appropriate for how I was feeling that moment.  I turned it on to listen, lay down and closed my eyes.
This is what I heard, all in the slow and deliberate soothing voice of Dr. Siegel.  "……listen to your heart.  What does it want to tell you…about the pressure…that you are creating?"
I began relaxing, thinking how true it is I'm creating pressure for myself with this cleaning frenzy.  Ahhhh.  Must let go of that.  He continued, "How does it feel?" What is affecting it?  Go inside yourself- "
"Avivah," my husband called up in an urgent tone, abruptly interrupting my attempted meditation, "they're here!"
What?!  It's an hour and a half before they're supposed to be here!  I bolt upright and rush downstairs to see that my wonderful husband thoroughly scrubbing the stovetop is in the middle of what has become quite a mess.  The stove top is sparkling but the grates and burners are all over the countertop, there are black crumbs that were scraped off that fell to the floor below, dirty rags visible – given ten more minutes the kitchen would have looked lovely, but at that moment it didn't look good at all.
I didn't mention that the washing machine stopped working before Shabbos so the repair man came that morning, leaving behind a working machine and a laundry room piled high with unwashed laundry. This is a room I usually have well under control.  Not this time!
I grabbed a broom to quickly sweep away the crumbs and the agents began streaming in (between fifteen and twenty) as I took a deep breath and accepted that despite my hard work that day and the week before, things didn't look the way I wanted them to.  It was so obvious to me what a ridiculous waste of emotional energy all my tension about this visit had been.
You know what the best relaxation was?  That they were all here and now it's not something to think about.  It was a quick visit as all of the agents went through our house – it probably took less than 15 minutes for all of them to finish.  I doubt one single one cared about my messy kitchen or the laundry piled on the laundry room floor.  I also doubt they cared about my sparkling window screens or the freshly scrubbed trissim (roll-up blinds outside the windows of Israeli homes). They were looking at the big picture, not the little details.
Having people checking out my personal space is stressful for me.  Really stressful.  I've had lots of time for reflecting on what thoughts are causing me to be so tense as I've been scrubbing during the past week.   Because I know that the real stress isn't coming from people coming to look but the thoughts I'm thinking.  While I can't control what people will be thinking as they view our home, I can control what I think of what they're thinking!
Avivah