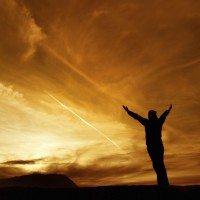 Earlier this week I traveled to Jerusalem for the Temech business conference, an event geared specifically to religious women.  The organizer is one of my blog readers and I was delighted to meet her – and other blog readers- there.
I had a fantastic time connecting with so many people!  This was the best thing and worst thing about the conference – too many great people to talk to! – and I missed the last session that I wanted to sit in on because of my shmoozing.  

Naturally I heard other women saying how wonderful and empowering it was, and I also heard some grumbles.  It made me think about how quick people are to complain and how slow they are to express their appreciation.
Several weeks ago I completed a repair in my building that was part of a problem for eight years.  I took on the job of building representative in the beginning of August and at that time I hired someone who located the leaks in the building and then took care of getting them fixed. The final part of the repairs was to replace the tiles that had been pulled up in the entranceway of the building before I took over.  These had been left open because they didn't want to close up the flooring only to have to rip it up again if the pipes there were the cause of the leaks.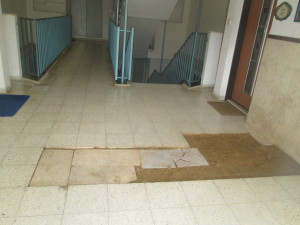 I spent months speaking to all the members of the building until I got a majority of people to sign that they agreed to have the entrance way repaired.  That gave me the legal backing to do the repairs.  But it still meant I had to get everyone to pay, which was very, very difficult.  This was a huge stress for me.
Someone in the building called me when I was in the hospital after I was burned and asked how she could help. I told her I was feeling very pressured that I hadn't yet collected money from everyone, and the biggest thing she could do for me was to speak to the three people who hadn't yet paid.  She agreed and I was very grateful for this because it took a huge weight off my head.  The only problem was that these are tough people to deal with. So this woman trying to help was brought to tears when speaking to them because the way they talk is to yell and attack you, and I was left to collect the rest of the money on my own.  (Yes, being yelled at and attacked.  Fun times.)
There were many hours put into getting this done and many, many steps involved in what could have been a very simple repair.  17 months after the floor was left broken open and nine months after I began the process of getting this repair done, I had the entrance flooring completed.  It was such a huge accomplishment that I felt like throwing myself a party.  But I mentally prepared myself to not be thanked, not for the many hours I put into getting it done, nor the end result.  That's human nature, to comment only when something is wrong.
Good thing.  Not only was there hardly a word of thanks, but the next morning someone yelled up to me through my window – from outside – that the building was disgusting and dirty since the floor hadn't been mopped after the repair was done!  It couldn't be mopped after the tiling was done since it had to be left to dry overnight, but it had been thoroughly swept.   After almost a year and a half of daily looking at this eyesore and safety hazard, she couldn't spend literally one moment to appreciate that it was fixed.
That's how some people are, no matter what they only see what they don't have.  Some people actually look for things to be miserable about.  This is the key to having a miserable life!  Look for everything in life that doesn't line up for what you want and then complain to everyone you see about what a miserable life you are and how much you suffer.  Ignore everything good that happens and take it for granted as your due.
Several weeks ago I received a note from a blog reader expressing her appreciation for what I write.   I'm blessed with a high quality readership and always appreciate when readers take the time to let me know if something I've written has been helpful for them.  In this case, she not only wrote but took the extra effort to put a card in the mail to me from overseas!  As nice as it was for me to receive, the person writing it got just as much as I did from the act of writing and sending it.  You know what she got?
She reinforced with her action the kind of person she wants to be and the kind of life she wants to have.  Writing that card made her a more thoughtful, caring and appreciative person, and as a result she'll have a more fulfilling and happy life.
Expressing gratitude can be hard, since it means acknowledging that someone enhanced your life in some way, which implies that you would have been lacking without it.  Also, sometimes people feel they have to notice what they don't have because the focus on what they want will bring them more.
It doesn't work like that.  You don't become better by bashing yourself for being inadequate and life doesn't hand you more goodies when you don't notice the huge platters piled up all around you.
The more you appreciate what you have in your life, the more good will flow in.  Regardless of what you do or don't have in your life in that moment, focusing on what you have will make you a happier person.  And being a happier person means you have a more fulfilling life.  This happens step by tiny step, every time you pause and practice gratitude in your life.
It's that simple.
Avivah
(This post is part of the Hearth and Soul hop.)