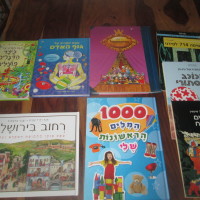 Every year in Israel there is what is known as Book Week, which is really book month, when bookstores all over have great sales in the month of June.  Last year it wasn't on my radar, but I was in Jerusalem for an appointment with Yirmi and I just happened to walk into an area that had huge amounts of books for sale.
I had a tight schedule because I had a bus to make, and within ten minutes I managed to make my purchases, a five volume set of children's parsha stories as well as a laminated copy of the 39 Melachos Shabbos book by Baruch Chait.
Those were purchases that we've gotten a lot of mileage from.  The set of parsha books were a particularly good buy since they were discounted about 30% since there was some kind of damage – the damage varied but the books I chose were very minor, like the imprint of a line on the back cover, nothing major.  This was my main book purchase for the year, other than 60 shekels on used books throughout the year.
I knew that I wanted to do some more book buying for our homeschooling and when I was in Jerusalem for the Temech conference earlier this week, I had my chance!  Finding books that I wanted was a challenge; I like well written books that aren't overly preachy or obviously intended to be educational, and so many books have beautiful illustrations but the text leaves something to be desired.   I want the books to be interesting enough for my kids to pick them up and read them on their own.
I finally settled on a laminated illustrated copy of Megilat Esther/Book of Esther, a picture book of 1000 words in Hebrew, and 3 Hebrew copies of Tintin.  The Megilat Esther has a basic drawing that looks similar in each page but many details change from page to page so I thought the kids would enjoy this.  The laminated versions of books are heavy duty and will last for many years but the downside of it is that it's so much more expensive.  The cover of this book looked used though the inside was perfect so I got this for 50 shekels instead of 118; I could have gotten a new unlaminated version for the same price but for our family this was the better choice.
The 1000 word book is for my kids to learn the words in Hebrew for things they already know in English; it has beautiful photos and is engaging (50 shekels).  The Tintin books are because my kids love Tintin in English so that makes it a good segue into encouraging Hebrew reading.   A plus is the text in a couple of the books is in Hebrew script so this is great practice in reading script.  Usually these are each 88 shekels but I got all three for 100.
The next day I went to Steimatsky's book store, since I had a 100 shekel credit that's been sitting in my wallet since July.  I wasn't purposely holding on to it for Book Week but it worked out beautifully!  We had the credit from a children's siddur we bought that had buttons you can push to hear the prayers but it wasn't what I wanted and the credit for it was basically enough to buy one other book.  I decided I wanted to get a laminated world map for the wall with our credit, but the store didn't have one.  The clerk called two other stores in walking distance; one didn't have a map and the other wasn't answering the phone.  Since it was just a few minutes walk away, I went over to ask in person if they had a map.
They didn't, but what they did have was a totally different selection of sale books than the first store I was in (which hadn't interested me much).
There was a sale table where you could choose three books for the price of the most expensive of the three.  One book immediately caught my eye and I knew I had to get it; it was a illustrated procession of how Jerusalem looked from Biblical times until today. Each time period has a two page spread filled with many illustrative details.  I knew my kids would love this and they would learn lots without even knowing it.  (As it turned out, I'm already learning lots from it- ds8 asked me which time period Alexander the Great lived in, and I wasn't sure so I said, "Hmm, good question, we'll have to look that up!")  This is a very well-done book, as interesting for me as for the kids.  There's only one paragraph of text on each page, but around the border there are tiny pictures that correspond to something in the larger picture with a fact about it.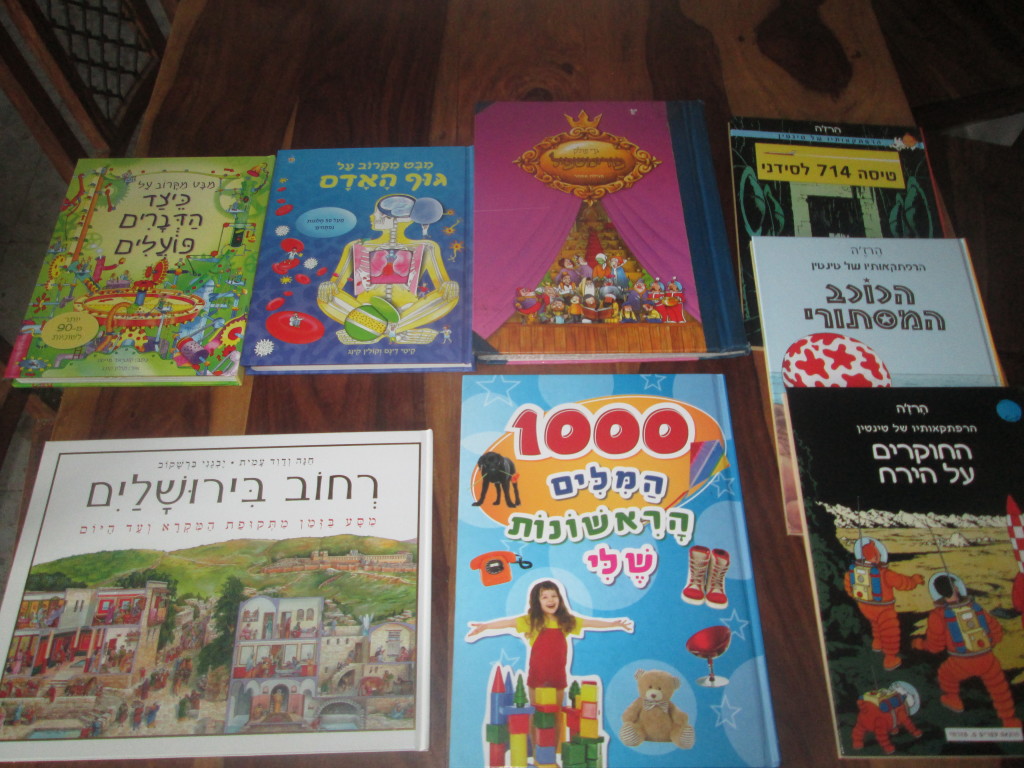 That was 89 shekels, and then I found two more books that were also 89 shekels – both are heavy duty board books with lots of flaps to lift up; these are geared toward the elementary aged child based on the information and is sturdy enough to stand up to lots of usage.  One is all about the human body, with pictures of different physical processes inside (eg digestion) and the other is How Things Work; both are in Hebrew.
I was disappointed that I wasn't able to get the map but I ended up much better off – with my credit I was able to get all three of these books for just 89 shekels (because of the special sale for Book Week – next week it will be full price again), and had some change left over to buy the kids some erasers as well!  (Steimatsky isn't a cheap store so the erasers were the only thing inexpensive enough to use my eleven remaining shekels for, just in time for their summer online drawing lessons!)
The kids are devouring the books and of course that makes me happy.  

Then the next day I returned some books I borrowed to a friend who is moving, who offered me six volumes of the Magic School Bus chapter books.  Do you think I turned that down?  No way!  And then she remembered she had some other books she was giving away and did I want to look through them?  Sure!  I came home with two bags of books.
And guess what??? Just a couple of hours later, ds8 came in after playing outside with friends and told me he found something he thought I would like.  I asked him to show me what he found and he ran to get a boxed copy of a laminated world map in Hebrew – in brand new condition!!!  (Ds just informed me that the listed price on this was 49.90.)  Someone was giving it away and he found it outside where they had left it.  He had no idea that I had wanted this and was surprised at how excited I was.
But you understand why, right?

Avivah