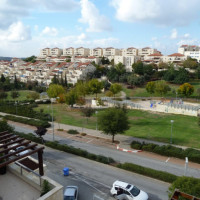 Things are falling into place!
We finally signed the contract for our new home today!  We officially have six weeks to close, which is considered pretty quick for Israel.  Since I want to move at least a week before Pesach, things will need to move even faster than that!
I asked the lawyer what her opinion was as to the feasibility of the process being completed in time.  She said, "It would be a miracle, but I think your chances are good!"
I'm continuing to envision everything falling into place.  

I was waiting until we had a signed contract to tell you where we'll be moving and now that it's done, here's our destination:
Ramat Beit Shemesh A.
Are you surprised or is it what you expected?
Karmiel is lovely and I'm appreciative it's been a good place for our family, but we're all really looking forward to moving to RBS!
Avivah