Last week I shared with you my disappointment about my kitchen counters.  Now I'm moving on to the good things.  The final cosmetic finishes aren't yet done but today I'll share with you some of what I love about my new kitchen!
Since I'm constantly cooking and washing dishes, I didn't want to have a dish drainer on the counter because it's constantly being filled and it keeps the counter looking untidy.   The solution – hidden built-in dish drainers.  Yep, two of them.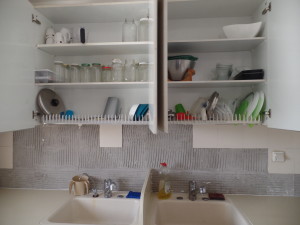 Which brings me to the next advantage.  I now have two sinks and they're both nice and big.  For the first time in many years I have a separate work space for dairy, along with amply storage space for dairy dishes, silverware and pots.  All of a sudden it's so easy to cook for and clean up from a dairy meal!
Deep bottom corner cabinets are usually very difficult to access, with lots of wasted space. This corner carousel that makes use of all the space and makes it easy to find what I need.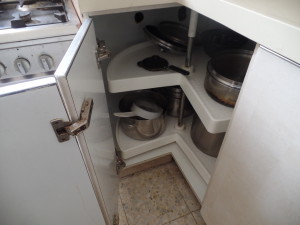 All of the bottom cabinets except one have shelves that pull out so there are lots of drawers.  I strongly prefer drawers.  Here's what the pull-out shelves look like.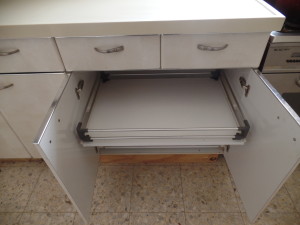 Here's the only cabinet not to have a pullout shelf and it makes it the perfect place for pantry items.  Since it's a blind corner cabinet, the storage is about double what you can see here.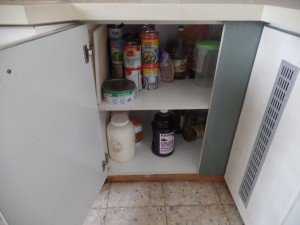 Next to the pantry is this cabinet that has a chrome design on the front that none of the other cabinets have.  Wonder why?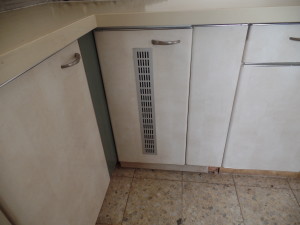 Open the doors and you see storage space for vegetables – close at hand but out of sight!  These heavy duty metal slotted drawers together with the special door opening provide air circulation to keep the vegetables fresh.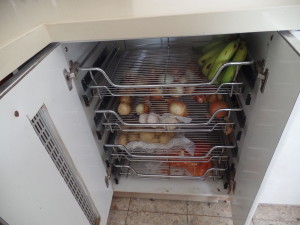 I asked the person who fabricated the countertops to raise them since I'm tall.  That little bit of additional height makes it more comfortable for me to work at the counters.
I wanted a very light, open look with lots of cabinet and counter space.  At the same time that we have so much more cabinetry in the kitchen, it feels more spacious and open than it did before.
Below is the right side of the kitchen.
The left side of the kitchen that was a holding place for unpacked boxes is now a great work area.
I bought the cabinets used and having all the features I wanted, plus everything fitting into my kitchen space so well is pretty amazing!
The next thing I'm going to do is put up one more top cabinet in the space next to the window (just thought of how to do this yesterday!), then tile the backsplash and cover the toekick.  That will hopefully bring the entire kitchen together.
In the meantime, we're all enjoying our new kitchen!
Avivah