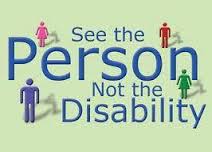 This week someone introduced me to another woman, mentioning that I had a special needs child.
"No," I responded, "I don't have a special needs child.  I have a child with special needs."
"What's the difference?" the woman I was being introduced to asked, sincerely puzzled.  (The woman making the intro immediately apologized and said she knew better and was sorry to have used that term.)
Honestly, I'm not a dogmatic person.  I know this seems like a really small thing.  But I simply do not want my child or anyone else's child labelled in this well-intended but limited way.
So I explained, "My son has Down syndrome – he's  not a Down syndrome child.  Down syndrome is part of who he is but it doesn't define him."
Ds22 told me he thinks it's too subtle a distinction for people to make, but I don't agree.   It's just a matter of nicely sharing a different perspective with people.  No one is purposely trying to be offensive or insensitive by using this term.  I've introduced my preferred term with doctors, nurses, therapists (alternative and conventional) and anyone else who has used the special needs version to me and almost everyone I've spoken to has understood very quickly what I meant.
Actually, at this point I don't usually mention when people meet Yirmiyahu that he has Trisomy 21.  There's really no reason to.  Someone will either notice or not.
Despite not being very verbally expressive yet, Yirmiyahu is bright and communicative.  People realize he has a language delay; it's obvious.  But it's interesting how few people realize he has T21.  Even in the hospital, a nurse who had been caring for him asked me if it was true that he had T21 – she said she hadn't realized until it was mentioned in his medical briefing.
Recently after a friend of dd15's visited, she told me she didn't like how people treated him after learning he had T21.  I suggested she consider not mentioning it anymore.  To us, his diagnosis isn't a big deal and she didn't think it was significant to mention – to us it's almost like saying someone has glasses or brown hair except that we're more proud of him than that!
As soon as her friend heard he had T21, she went from speaking to him in an age appropriate way to commenting to dd15, "Oh, that's so cute, he pointed at the bird – I think he knows what it is!"  As if he suddenly lost a bunch of brain cells and stopped being the engaging little boy she was enjoying before that.  If Yirmiyahu had overheard her he probably would have been wondering what happened to her brain cells.  Seriously, he's 3.  He understands everything.
The reality is that Trisomy 21 isn't the problem.  It has its challenges for sure, but the real challenge, the biggest challenge, is society and the limited expectations and lack of acceptance there is for those with developmental delays or disabilities.
This is all tied up with the terms people use.  When you speak with more awareness of a person having an identity outside of his diagnosis, you're part of the solution.  And it's so easy to do – a slight shift in how you describe someone and you've made the world a place that's more respectful of everyone!
Avivah