A couple of days ago I was speaking to my older kids about a problem I have with the Harry Potter series – that the adults are all ineffectual, irrelevant, incompetent, missing at times they're needed or dead.  The kids have to work everything out by themselves, and of course the kids being the heroes is part of what makes the series so compelling.
The next day I was waiting at a bus stop as boys from a local school streamed out at dismissal, when I heard calls of "Fight, fight!" As I stood there, I watched boys trying to get others involved and very quickly there was a growing crowd with boys chanting and egging their school mates to fight.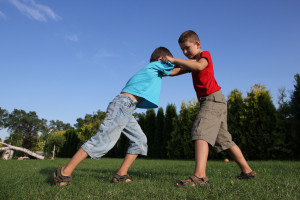 I looked up and at the top of the steep hill saw two boys who looked like they were in the upper elementary grades pushing each other in a way that was clearly not friendly.  There was one other man who had crossed to see what was happening and I waited for him to do something as I saw his expression of concern, but then realized he wasn't going to get involved.  What I wanted to do was go back to my bus bench but my conscience was telling me as the only other adult around that would be irresponsible.
I shouted up the hill to where the boys were pushing one another back and forth, "Boys, stop  and come down here right now!"  (This is so embarrassing but it's the truth, that's what I did.) Of course it always works really well to raise your voice to show that you have authority in a situation, right?  Ahhh…no.
I always tell parents, don't raise your voice – get yourself up off the couch and actively get involved when there's a situation that needs to be dealt with.  Real authority is quiet and calm.  If they hadn't been up a hill that I didn't think I could easily climb, I would have walked over and started speaking to them from the start instead of raising my voice, but that wasn't the case so I made the mistake of trying to borrow power.
Some kids moved away but the main players didn't budge.  In for a penny, in for a pound… I hiked up the steep hill, told the kids watching to go down, and spoke to the kids involved from two different schools.  After taking a few minutes to hear them out and them agreeing to let it go, I went back down the hill and all the boys who had gathered around went back to wait for their rides home.  It was over for this time, at least.
I planned to call the administration the next day to suggest this area be monitored at dismissal by someone able to facilitate a peaceful resolution since the boys told me it was a daily issue.  A teacher happened to be passing by just as I got to the bottom of the hill  so I spoke to him instead.
I shared what I had just learned with him and he told me they would deal with it the next day, that it was good I got involved – and it seemed to me they weren't going to do anything and he was trying to politely dismiss me.  (Not that I blame him – if I was a teacher at the end of a long day wanting to get home, I wouldn't appreciate having to deal with something like this.)
I pointed out the student in his school who could help him understand the issue the next day when (if) they looked into it, and realized by the teacher's face that he understood the situation much better just by seeing who it was.  My goal wasn't to get anyone into trouble and I quickly told him they're all good kids, they just need some help in learning to talk respectfully to others.  He told me my suggestion was very hard, very, very hard (he meant impossible and unrealistic) – and he's right.
It is impossible to teach kids to communicate respectfully, if it's not important to you, if you believe it can't be done, and if the adults involved don't have the skills themselves.
I went back to the bus stop wondering if I should have just stayed out of the situation and let the kids fight each other.  It wasn't my kids who were involved, right?  Did I accomplish anything other than breaking it up for that day?  Probably not.
As I waited for my bus I wryly thought about Harry Potter and his friends.  It's not just in the magical world that we well-intended adults can be ineffectual and irrelevant in the lives of kids.
Avivah