Can you believe that Yirmi just recently turned 5?
Until Yirmi was born and we received the birth diagnosis of Trisomy 21, I knew very little about what that entailed.  I had the stereotypical perceptions of people with Down syndrome based on very limited personal connection.  When Yirmi was born, my eyes were opened to a much broader, more appreciative and more accurate way of seeing people with differences.
Though people tend to assign a lot of significance to the differences (skin color, religion, political affiliation, income level, abilities), we're all more alike than different, and we all benefit when we place more emphasis on what makes us similar.  More than anything – every one of us wants to be valued for who we are.  And this has been my focus in raising Yirmi.
We had a 3 hour appointment with a developmental pediatrician very recently (the first since leaving Karmiel 2.5 years ago), who was blown away by Yirmi.  She kept exclaiming that she's never seen a 5 year old with T21 like him in her decades of working in the field.
She said that he is bright, communicative, emotionally present, focused, takes initiative, and has the confidence to try new things in a new environment.  She told me that these aren't qualities that she's seen in a child with T21 of this age, particularly combined with a language delay like his ('Usually these kids are shut down.').
A week later I took Rafael for his intake appointment, and again she remarked on how taken she was with Yirmi.  "He's so emotionally intact."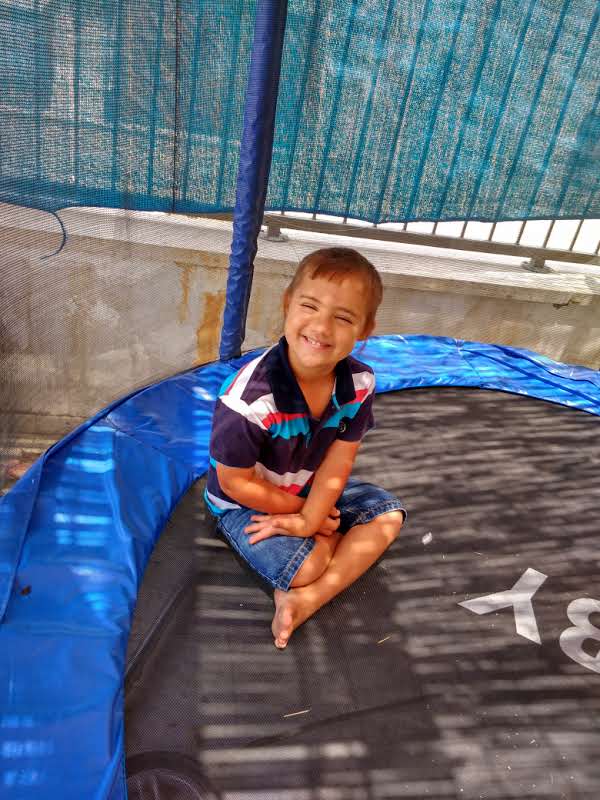 Why is it the norm for a child with T21 to not be emotionally intact?  To not be confident or communicative in new situations?  To not trust their abilities?  To not be willing to try new things?  To not keep trying to be understood?
Could it be in part because of how those with whom they interact regularly treat them?  Are the frameworks in which they spend most of their time focused on what they can't do instead of what they can?  Are they being defined by limitation instead of possibility?
People have told me Yirmi doesn't act like he has Down syndrome, or that he must have it 'just a little bit'.  What does that even mean??? What limited perceptions are those comments based on??  You can't have T21 just a little bit – either you've got it or you don't.  He definitely has garden variety Down syndrome, present in every cell of his body.
Though professionals have told me that Yirmi is doing very well, it's not because he's inherently different or better than any other child with T21.  I'm not holding him up as an ideal or trying to imply he's the most amazing child with T21 ever. Comparisons of performance and impressing anyone else isn't my goal – he is who he is and and regardless of percentages or testing or anything else, he is enough as he is right now.
Having said that, in line with the 80/20 principle, I believe 80% of children with T21 can be doing just as well if given similar support.  I don't think he should be as unusual as the professionals say he is.  Actually, I think a lot of kids with T21 are already doing great but probably most of them are also being treated like outliers.
I passionately believe that every child deserves to be treated with respect. With respect for where he is right now, with support for whatever limitation he has at this time, and with belief in who he will be in the future.
It's not hard to do this.  It's really not.  It may be counter cultural, but it's not hard.  People think I must 'work so much' with Yirmi.  I don't see what I do as work; he's not my project to fix.  What I do that I think is of the most value is to parent him the same as all of my other children – I look at what his needs are and try to find integrated ways to support those needs in our daily lives.
In my opinion, the most challenging thing is to recognize the aspects of your thinking about your child that are limiting, and then to change those thoughts.  Your actions will follow your thoughts, and your child responds to your thoughts about him.  If you think your child is capable, you'll have different expectations and take different action than if you think your child has significant limitations.
To consciously shift from a paradigm of limitation to possibility means seeing the potential in your child and acting in alignment with what you trust he will become, long before you see that in him. 
If he can't yet talk or can't yet walk, it means believing that if you keep giving good quality input, that you can trust the timing of the output (ie performance) even when it's taking a lot longer than you would like. At age 4, Yirmi still hardly said any words.  Now a year later, we're seeing an explosion of speech.  And I trust that we'll continue to see significant gains with time.
Shifting that paradigm means reflecting your child's positive inner value to him even at times that he's immature, irresponsible, unreliable, hypersensitive, or mean.  It means trusting your child's potential and holding on to that vision even when external circumstances might give you reason to feel discouraged.
And that's something that benefits every child,  regardless of diagnosis!
Avivah