Saturday night was the official engagement party, and we feel so blessed to have been able to share our simcha with friends and family!
There wasn't a lot of time to prepare but we wanted to have the engagement party while Amitai's parents were here; they flew in from the US and are here for just a week.
My primary goal was to stay calm and keep our home environment relaxed. Too many times, when people are preparing for events, the spirit of the event gets totally lost in the stress and strain behind the scenes. I didn't want to be that person yelling at my family to hurry up and do more – and then smooth a smile onto my face as if everything was wonderful all along when the guests arrived.
We made all the food ourselves; the older kids weren't around much so there was a lot that I needed to do. When I finally had someone around to stay home with the younger kids so I could go out to do some needed party shopping, it was already Friday morning. This isn't the kind of thing I would have usually pushed off until this point but you can only do what you can do!
Then with my loaded cart paid for and ready to get home, there were no taxis in the entire city available – and the dispatcher told me there would be no taxis anytime before Shabbos! It was a very unusual situation, one I've never experienced before, and I was kind of smiling to myself at the Heavenly opportunity I was being given to practice staying calm. My husband called a friend who came to my rescue and I got home after a 40 minute delay. By then it was 1 pm, with less than three hours to do the final party preparations as well as finish cooking for Shabbos.
My personal experience is that my thoughts are what create pressure, not the external events. For a long time I thought it was the other way around – I was pressured because I had so much to do – and I've been working on shifting in this area for quite a while.  It's a good thing I've made this a conscious effort because otherwise there's no way it would have been calm and pleasant for anyone behind the scenes!
I have to admit that for about 30 minutes after I got home, I felt a lot of pressure because there were so many things vying for my attention. I didn't act on that feeling but the feeling was there. My mother and her husband arrived during that time (they came from the north to be here for the engagement party and spent Shabbos with us), the groceries needed to be unpacked and everyone needed to be directed to get involved and help, while I needed time to just figure out what to do next. And some others in the family who understood how much there was to do and how little time there was to do it were stressed.
The party was on Saturday night; everyone in our family who was able to pitched in and it all got done! Most importantly, I was able to enjoy the preparations and enjoy the party itself.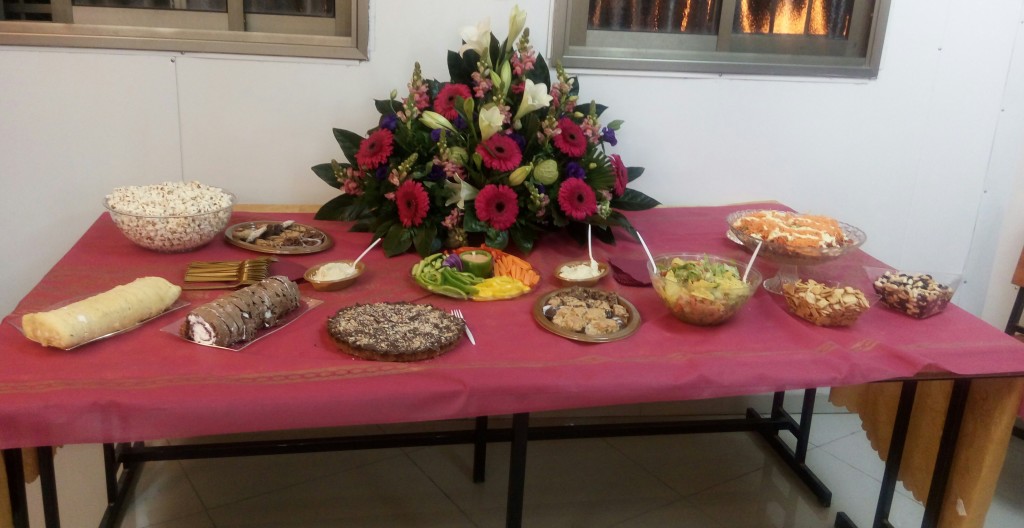 Here's an updated family photo with our wonderful new couple!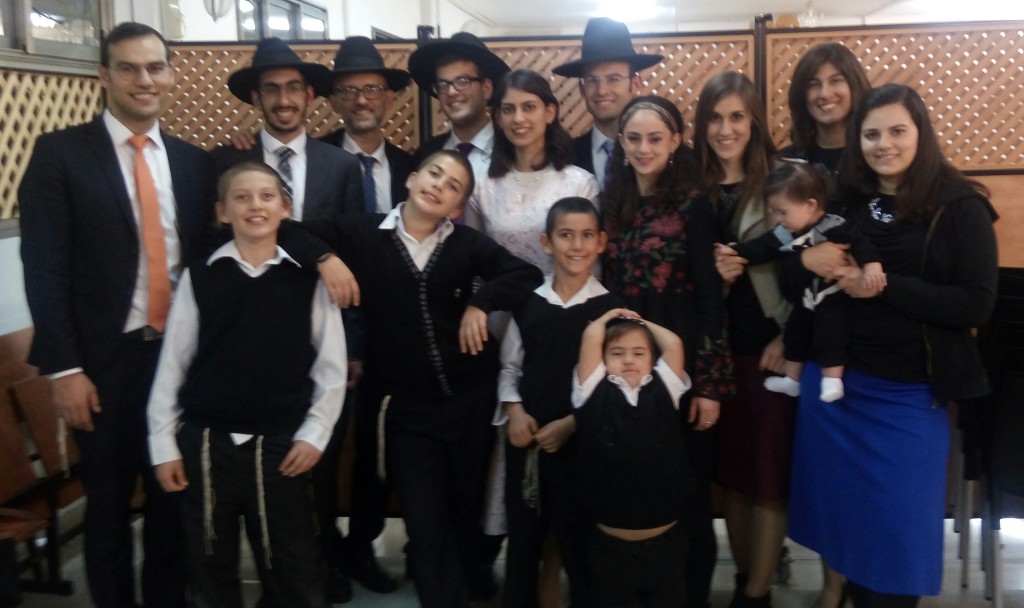 Family picture 2017: back row, l-r: ds18, Amitai, dh, ds15, Michal, ds24, ddil1, dd22, me
Front row, l-r: ds10, ds11, ds8, ds5, ds11 months, dd17
(For those who are wondering what my abbreviations are, here you go! Dd stands for dear daughter, ds is dear son, and the number that follows is the age. Dh is dear husband. Ddil1 is dear daughter-in-law/love 1 – married to our first son.)
The feedback from my children was that the party was really nice – and both the older girls told me how relaxed it was. I heard one telling her friend on the phone, "It was so relaxed and that doesn't even make any sense because there was so much to do!"
Very grateful to be busy for such a good reason!
Avivah