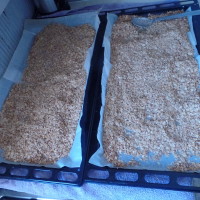 Today my home is filled with the delicious smells of homemade granola!
Granola makes a yummy and quick breakfast or snack, and is a fun and gratifying activity to do with kids with just a bit of oversight from you!
And if you've ever seen the price for ready made granola in the store, after making this you'll wonder why anyone would pay so much.

Fun and Easy Granola
3 c. rolled oats

1/2 c. oil
1/4 – 1/2 c. sweetener (honey, date syrup, sugar)
1 t. vanilla

1 c. coarsely chopped nuts (almonds, walnuts, peanuts)
1 c. shredded or flaked coconut
1/2 c. sesame seeds
1 c. sunflower seeds (or sliced almonds, chopped walnuts)
optional – dried fruit (eg raisins, banana chips, papaya, mango, apple – anything!) chocolate chips –
Mix the oil, sweetener and vanilla together and heat over a low flame for 5 minutes.  Pour the hot mixture over the oats and mix thoroughly.  Spread in a thin layer on a baking pan, then bake at 300 degrees for about 45, stirring periodically.  Mix the remaining dry ingredients and add them to the cooled oats.  If you want to add dried fruit or chocoiate chips, you can also add that now.
That's it!
– I made three times this recipe, using 1 kg of oats as a base.  I used coconut oil but you can use any oil.
– If you're using sugar for your sweetener then stay to the lower side of the recommended amount.
– Granola is incredibly flexible and you can add in all kinds of nuts and dried fruit to keep it different and fun every time.
Avivah