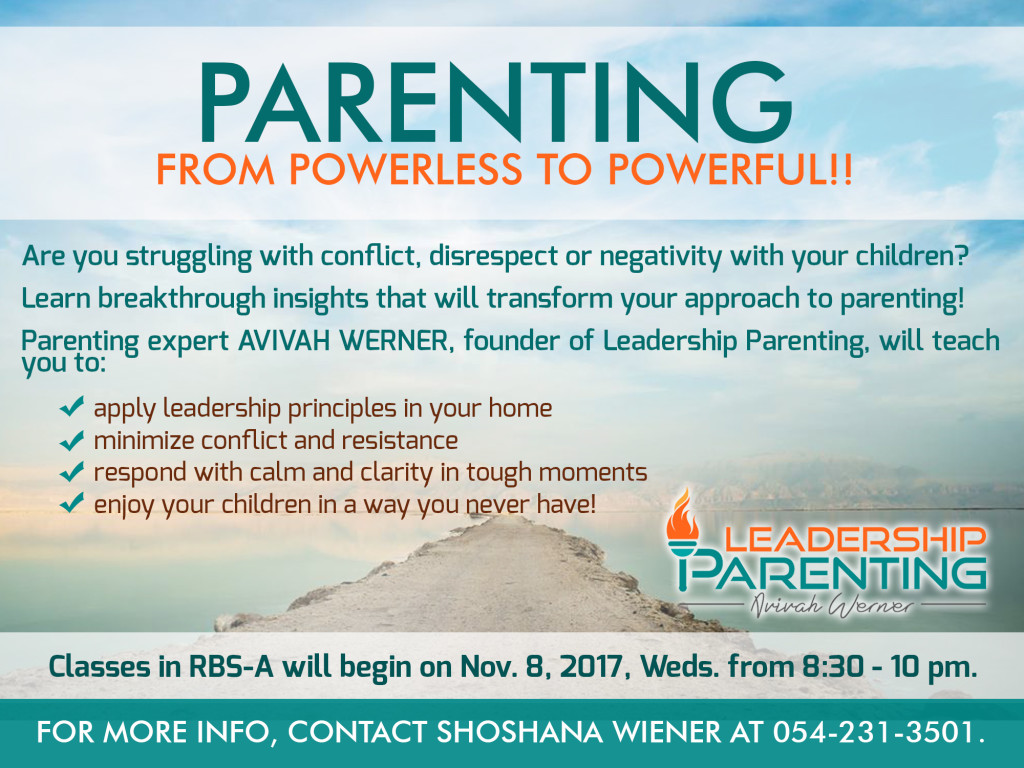 Leadership Parenting is based on six foundational concepts:
*Connection  *Compassion  *Courage   *Calm   *Clarity   *Correction
Leadership Parenting is a principles-based approach to parenting that has relationship, connection and character firmly at its core.  Powerful, life-changing and EFFECTIVE!
**This series will be offered live in Ramat Beit Shemesh beginning November 8, 2017. You are welcome to try the first class with no commitment. For more information or to register, please email avivahwerner@gmail.com, or call the number listed above.
—————————-
"I have been really enjoying and benefiting from these extremely effective classes. The material and presentation is eye opening, brilliant, very well researched, and organized. I am sure that mothers of all ages and stages will  find that attending Avivah's classes will enhance their mothering!" Brindy Silverstein, Ramat Beit Shemesh
"Thanks for a wonderful class!  I so look forward to it every week!" – Sarah Tikva Kornbluth, Ramat Beit Shemesh
"Thank you for the series, its given me so much to think about and to try and absorb into myself and my parenting." – Ruth Wacks, Ramat Beit Shemesh  
"Highly recommend this workshop! I took Avivah's last workshop and it was life changing. " – Elana Kahan, Ramat Beit Shemesh