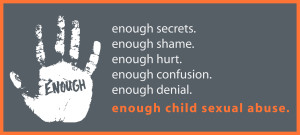 Sexual abuse is deeply damaging to a child with numerous long term ramifications.  It strikes at the heart of who they are and affects their sense of security and trust in the world forever.
As parents, it's critical that we learn as much as we can in order to protect our children from sexual predators.  When we keep quiet about this sensitive topic, we give our power to the people who want to exploit our children.
This Sunday night (April 26), there will be an evening of education and awareness in Ramat Beit Shemesh that I plan to attend.  There will be another event on Monday night, April 27 in Jerusalem.
Below are details copied from the Jewish Community Watch (JCW) website:
For the events in Beit Shemesh and Jerusalem, JCW will team up with Magen, a child protection organization from Beit Shemesh, Israel. Magen was founded in 2010 as a response to a series of cases of child abuse in Beit Shemesh and out of concern of the alarmingly low levels of reported child abuse, indicating that many incidents were not being reported to the authorities.
The upcoming events in Beit Shemesh and Jerusalem will be mostly in English and the speakers will include:
CEO of Magen – David Morris
Founder of JCW – Meyer Seewald
Abuse survivor – Eli Nash
Chief of Detectives – Dudi Katz
Trauma Psychologist – Dr. Norman Goldwasser
An anonymous abuse survivor and member of the IDF
Founder and CEO of JCW Meyer Seewald said: "JCW was founded in response to ONE case of abuse in ONE neighborhood in Brooklyn NY.  In less than four years, it has grown into an international organization. The reason is that the Orthodox community is sick and tired of the cover-ups, and sick of protecting the abusers instead of our innocent children.  We have started seeing a turnaround in the attitude towards abuse in the Orthodox community in the U.S. and we will work with our partners towards the same results in Israel.
"Israel presents a unique set of challenges, because there is a far stricter censorship in the media and there is no sex offender's registry.  Many parents are therefore unaware of abusers living in their midst. In addition, despite Halachik rulings from some of the leading Rabbis, many communities do not report abuse to the police. There is also the very troubling reality that Israel has become a safe haven for Jewish predators from around the world."
David Morris, CEO of Magen said: "The shame, isolation, and pain suffered by victims of child sexual abuse is universal and in all our communities. This follows victims and survivors the world over. Therefore, the solution must be to join forces and tackle this devastating problem on an international level. We are therefore excited that Jewish Community Watch, pioneers in Jewish child sexual abuse victims advocacy in the U.S.A., will be joining Magen, the child protection agency here in Israel, to break through the silence and to bring increased awareness of the terrible issue of child abuse to our communities. We are planning that this will be the first of many opportunities for Magen to work together with JCW in support of victims and survivors of child sexual abuse."
The day after a previous event in the United States, JCW received the following message from an attendee: "Last night's event was probably the most important event I've ever been to. The honesty, rawness, humanity and bravery that was shown by every single speaker and survivor affected me so deeply I really can't describe it. [The speakers] who were so courageous in sharing their stories just saved countless lives. I have never been prouder to be Jewish than I was last night, when we all stood together and sent a message to the abusers and cowardly murderers that they will never again be free to lay a hand on anyone, with the help of JCW."
Event Details:
Sunday, April 26 at 7:00pm, Ahavat Tzion Hall: 2 Nachal Timna Street, Ramat Bet Shemesh
Monday, April 27 at 7:00pm, Yeshurn Synagogue, 44 King George Street, Jerusalem
For more information about Jewish Community Watch, visit http://www.jewishcommunitywatch.org/
For more information about Magen, visit: http://magenprotects.org/
I wish sexual abuse wasn't a reality but it is, and ignoring uncomfortable topics only puts our children at risk.  Please join me in attending one of these events to learn how to protect our most precious gift, our children.
Avivah