This is a super easy and really yummy recipe for coconut macaroons that we're all enjoying this year. It's moist and I think it tastes pretty close to the store-bought macaroons that I grew up with in the US (think Maneshewitz brand).   It has just four ingredients and doesn't require beating any egg whites.
Easy As 1-2-3 Macaroons
1 c. sugar
2 eggs
3 c. coconut
1 pkg vanilla sugar (can leave this out if you don't have it)
Mix all ingredients thoroughly.  Form into balls and bake on an ungreased pan at 350 degrees until the tops are just hardly browned.  Take out of oven and let cool to solidify.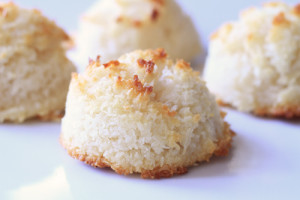 For our family I quadruple this recipe to make one batch.  It's a good thing I bought a 50 lb bag of shredded coconut before Pesach because these are so good, so easy and thanks to being gluten free, something all the kids can enjoy – we've made a bunch!
Enjoy!
Avivah