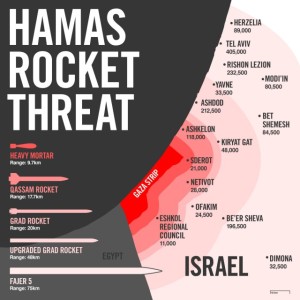 I got a worried email from my sister a couple of days ago, who has been following the latest news in Israel.
The latest news is that the internationally recognized terrorist group, Hamas, has been shooting hundreds of long-range rockets into Israel.  As I write this morning, 365 rockets were shot into Israel in the last 72 hours.
This began with southern Israel and is spreading throughout the country, to the Jerusalem and Tel Aviv area.  As of yesterday the first warning sirens were sounded in the northern part of the country as missiles reached the Haifa area; in the past missiles to this part of the country came from Lebanon further north of us, but for the first time these are being shot from the south.   We're seeing  rockets with a very far range.
Miraculously, no one has been killed.  Truly a miracle.  However, there have been people who were seriously injured.
Hamas terrorists are using their citizens as human shields, deliberately encouraging people to flock to buildings that the Israeli army has warned them in advance to evacuate (this link is to a video in Arabic by terrorist leader clearly saying this is their strategy); the Israeli army aborted the planned strike as a result of the presence of civilians.  This article in Slate details Israel's effort to spare Gaza civilians and calls it 'exemplary'.  Meanwhile, the social media is being flooded with images of Arabs who were killed in Syria with claims that these are current pictures of the work of the Israeli army in Gaza; the notoriously anti-Israel BBC has said these are fake.
As for the millions of Israeli citizens who are being targeted…you won't hear much about them in the media outside of Israel.
I've been thinking about how to present the rocket attacks to my kids – which I didn't do an especially good job about so far – and now how to prepare them in case rockets are shot into our area.  It's a balance to give them information but not to unnecessarily frighten them.
Here's a song that was created by someone who saw that thousands of children in southern Israel (which has been targeted with rocket attacks for years) were very traumatized.
I'm impressed with the simple genius of this song, to turn a terrifying situation into something a child can deal with, and to help them release the fear and anxiety.  If you've ever heard one of these warning sirens, you know that just hearing one of them makes your stomach drop and your heart begins pounding.  That's aside from waiting to hear the 'boom' of the rocket when it hits and then the all clear.
I've practiced drills with our kids a couple of times and hope that going to the bomb shelter won't be necessary.  But for those in different parts of the country, this is already a reality and particularly for those who are experiencing rockets landing in their close vicinity, it's terrifying.
This morning I saw this list of 7 positive group bomb shelter activities.  (Some people have homes with specially built safe rooms but our apartment was built a couple of years before this became standard building practice.)  These can just effectively be used with your children as with a group of strangers in the bomb shelter; they are all activities that encourage a positive energy and focus on something good.
I think the best thing for kids to have is a calm parent or teacher since they take their cues from us.  Easier said than done, right?  So helping our kids deal with this means finding a way to deal with it ourselves.
I like the above song because it gives a parent a concrete tool to help a child deal with the situation.  I decided that telling or reading a story would be most centering and grounding for me and my kids, after saying some tehillim (Psalms) together.  If we had to stay there for longer, then games would be helpful in spending time together in a relaxed way.
Our kids need us to help them stay calm, to give them the message that they're safe and we're there for them.  Listen to them talk, encourage them to draw or write down their feelings.  Don't minimize this because you're uncomfortable or so afraid yourself that you think that letting them share their feelings will make them more afraid.  Remember, they'll take their cues from you.  The message you want them to get is, it's scary but they are safe, that whatever happens it will all be okay.  You're taking care of them.  This is our job especially at times like this, to be the emotional rock for our kids to lean on.
My ds15 heard a rocket land near where he was at the time and he told me he can't believe how Israelis go on with their lives as if everything is normal.  Well, unfortunately for our beleaguered little country, being attacked by hostile Arabs is normal.  Israelis have developed the attitude that we have to go on with our lives, that to live in fear is letting terrorists win.
If you're in Israel:
Do NOT share details of where you hear a rocket land.  We don't want them to know where they are landing because this helps Hamas shoot more accurately.
Do NOT mention hearing planes going overhead.
Do NOT talk about where our soldiers are being deployed.
You know the saying from WWII, "Loose lips sink ships"?  It's like that.  PLEASE – I know it's scary and you want to share with your friends, but tell them in person, not on FB or other social media.  They are being monitored for this information and we don't want to give information to people who will use it to hurt us.
Friends of ours in Baltimore began the Shmira project, where people around the world are paired with active combat soldiers in the Israeli army to pray, do good deeds or learn Torah as a merit for safety for that soldier.  Sign up here.
If you  have a smartphone there's an app called Red Alert: Israel that you can download.  It will notify you when a rocket is being shot, giving people in communities closest to the danger zone just 15 seconds to get to safety.  For those of you not in Israel, you can use these seconds to pray for the safety of those being targeted that no one is harmed.
The Israeli army has just called up 40,000 reservists, which means that many, many young children are saying goodbye to their fathers right now.  So much courage from so many people in such a tiny country – our men, their wives and mothers and their children – we're all one big family.
It's hard to talk about this conflict without feeling frustrated and confused that regardless of how much terror is inflicted on the Jewish state, it is painted as the aggressor.  Why would people support evil when the facts are so clear, my older kids want to know (and what most adults are trying to wrap their heads around)?  To be very simplistic, it's hard to deal with bullies when they control the world's oil and everyone is dependent on it.  Better to look the other way so you don't see what they're doing, so you don't have to take action.  Because ignoring evil makes it go away, don't you know?
When I begin to feel upset or fearful about the injustice of the world, I take a deep breath and remind myself Who is running the world, and remember what we've seen time and time again – and I pray that we continue to merit this protection in this latest wave of attacks on Israelis.
Please pray for peace, for safety and for a quick end to this most recent war of terror on Israel.
Avivah