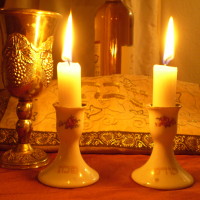 Remember earlier in the week I wrote about wanting to upgrade the way that I approach Shabbos?
Something that's important to me is being ready earlier on Friday so that I'm not busy until the last minute before candlelighting.  As anyone who faces this deadline knows, it's a challenge since somehow what needs to be done grows to match the time you have available.
Good intentions are nice but without starting preparations earlier in the week you're unlikely to be able to be ready when you want to be. There's just so much to do!  This week I sat down with my planner on Saturday night to think about what my goal for the coming week was in order to plan for success.  My goal is to light candles on time and in a relaxed way, and ideally be finished by midday Friday.  I want the hours before Shabbos to become a gentle segue into the special spirit of the day versus a sudden shift in atmosphere once the candles are lit.
I  work quickly and often do too many things on Friday because I can.  Then there's too much squeezed into too little time, which doesn't make for a relaxed entrance to Shabbos.
Here's my general plan:
Make a list of what I need to buy/do by Tuesday.
Do the shopping by Wednesday night.
Do any sewing repairs by Wednesday.
Finish all the laundry in the house by Thursday night.  (I often have two kids who come home on Friday with laundry so I can't avoid doing laundry on Friday but I can limit it to only their clothing.)
Do the bulk of cooking and baking on Thursday.
Don't do anything on Friday that isn't related to Shabbos preparations (organizing projects, errands, blog posts).
Friday is reserved for basic cleaning (no big organizing or cleaning projects!), baths, haircuts, nail cutting, heating up the prepared food and setting up the hot plate.  All of this needs to be actively planned so that I don't get overly relaxed, thinking everything is done and then rushing at some point in spite of all my advance preparations.
Your goals will be different than mine and the way you go about getting ready for Shabbos on time will be different as well.  Thinking and planning ahead is what makes it work for us all!  And lighting candles on time and in a relaxed way is spiritually powerful for us all.
I'm dedicating the merit of lighting Shabbos candles in a timely and relaxed way for the complete healing of Chaya Dina bas Sarah.  She is very ill and medical doctors have said there's nothing else they can do for her.  I attended the births of Chaya Dina's first two children years ago and this is my way of supporting her now.  Please join me in transforming the way you approach Shabbos!
Avivah