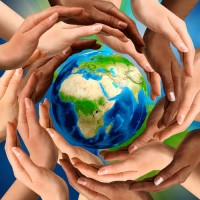 From the time I was twelve, I've had a favorite mitzva – giving maaser (tithes).  When I was young this meant putting ten percent of all my babysitting money in my own charity box I kept on the ledge of my bedroom window.  When I got older, I set up a separate checking account linked to my main checking account; as soon as money came in, the first thing I would do was transfer 10% to my charity account.  This account had its own checkbook and I delighted in being able to regularly respond to requests for help from others.
Now I'm in the position of being helped, and it's a very different experience than giving.
A dear friend called me at the hospital and asked me if we would go away for Pesach if she would make arrangements.  I immediately refused; I told her it was a luxury and we would manage to prepare for Pesach once I got home from the hospital.  (If you've been reading here long enough you know that in almost 22 years of marriage I've never hired any kind of cleaning help so you can understand that going away is far beyond my frugal way of doing things.)
Then I thought about how much stress we've all gone through, how traumatized the six kids are who were at home when the accident happened and what a huge relief it would be to all of us to not to have to keep pushing on.  When I was honest with myself and allowed myself to picture not having to prepare for Pesach, I felt almost weak with relief.
When I saw that a fundraiser was initiated by this same incredible friend to help our family with the many expenses we're facing, including the costs of Pesach at a hotel, it was very hard for me.  I didn't know about it in advance and finding out about it was very, very hard.  This is so contrary to my nature in every way.  I didn't want to be seen as needy and pathetic.  I didn't want people to feel sorry for me.  My ego was struggling in a huge way.  And then I saw the incredible response to it within 24 hours of when it began, and I was shocked.
It made me think of this email from a friend right after the accident.
"But the only way I am making sense of the idea that something bad could have happened to you is that this is going to generate such an unbelievable amount of compassion and chessed in the world that it will be just awe-inspiring. I think that people will rally so much around you and take on so many extra mitzvos and daven with so much extra koach and say so much extra tehillim that this must be what the world is in need of right now.
As your friend, I can't say I love the idea that you are the vehicle for all of this to take place, but I can completely see you as the catalyst for something huge."
I thought she was sweet to want to make me feel good.
I had no idea.  No idea.  She was right – people are just so 
good
.
I am overwhelmed, totally overwhelmed.  The tehillim, the davening, the people who were willing to make challah before Pesach instead of buying or taking from the freezer as a merit for my healing.  The money people are giving at a time of year when finances are especially tight due to Pesach expenses; the notes and good wishes that accompanied those donations showed how much people cared.  It's hard for me to digest.  I could never have imagined having been the recipient of so much generosity and good will.  I am just overwhelmed with gratitude, and don't have words to say how much it all means to me.
In Jewish tradition, we learn that God created people who need help in order to give others the merit of helping them.  It's very uncomfortable to be on the receiving side.  Very. But when I see the outpouring of goodness that is being brought into the world right  now, it's also obvious that all of this would be blocked from entering the world if there weren't someone in need – unfortunately, me in this case – to be the conduit for it.  Our world is so fractured and these acts of kindness are bringing wholeness and healing to our entire planet.    
Thank you all so much for your caring and compassion.  I look forward to very soon being back on the giving side, and wish for you all that you be blessed with being givers rather than receivers!
Avivah