Here in Israel spring is in full force.  The trees and flowers everywhere are blooming, the breeze is warm, the sun is shining brightly…yes, I feel for those of you who are once again dealing with snow in the US.
The last couple of days I've taken a good chunk of time to go through the clothing boxes I have stored in my attic, to take out clothing better suited to the warm weather we're having.  (I buy when I find good sales and set aside clothing in good condition that was passed along to us and then we usually have what we need when a new season begins; instead of running around to stores I can just take out the box for each child.)
Goodbye, winter!
Since the three younger boys were born within three years, I tend to hold on to a lot of clothing in the sizes they'll be wearing. Today I realized that I'm finished with the size 4 clothing until Yirmiyahu will need it.  Since I won't need as many duplicates as I've had until now, I went through it all and set aside lots of clothing to donate.  There's nothing like giving away too small clothing and taking out clothing that was previously too large to highlight how fast your children are growing!
With ds7 having a birthday coming up in a couple of weeks, followed by ds4 having a birthday six weeks later, I have a bittersweet feeling of watching the chapter close on having this cluster of littles being little.  Below are the three cute boys who have long been referred to on my blog -until this year – as 'the littles'.  I can sit at the park and watch them play without having to get up and run after any of them.  It's very nice, actually.  

 From left to right are ds4, ds6 and ds7 on a spring hike a few days ago.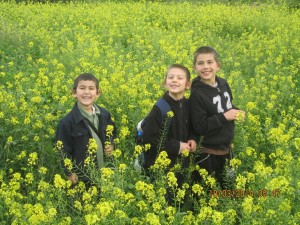 How quickly they've grown!
And here are the three children long referred to – until this year – as 'the middles'.  When I started this blog they were 4, 6 and 7, about six months younger than the three in the picture above are right now.  No need to call them the 'middles' anymore with the three 'bigs' out of the house this year.  From left to right, ds11, dd13 and ds15.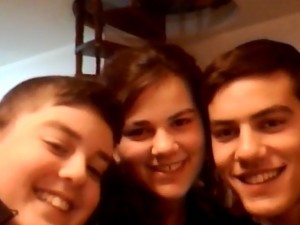 Enjoy the time with your children – the years really do go by quickly!
Avivah