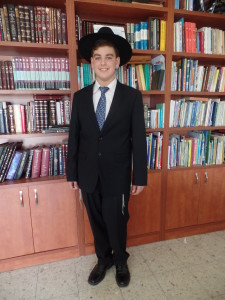 We've just celebrated our third son becoming bar mitzva. Each of the three bar mitzvas have been very different and I'll share with you what we did this time and why we did it this way!
Several months ago we talked to our then twelve year old son about beginning bar mitzva lessons so he would be able to read the Torah portion in synagogue the week of his bar mitzva.  He told us then he didn't want to do it.  I told him everyone is nervous in the beginning and that's okay; he would learn what he needed to learn, practice and it would be fine.
He went to lessons.  He occasionally would say he didn't want to read the Torah portion in synagogue.  I told him I understood he was nervous but encouraged him that he would do fine.  After all, dh, ds21 and ds16 have often served as the baal koreh (Torah reader) in addition to leading the davening (prayer services).  It's something the males in our family are comfortable with and enjoy doing.
When we moved dh took ds to a local bar mitzva teacher to continue his lessons.  The teacher asked him what he wanted to do, and ds emphatically said he didn't want to read the portion in public.  At that point, it was clear to us that he wasn't saying this because he was unprepared, and dh and I reevaluated.  We spoke to a rav who agreed there is no reason he needs to lein his bar mitzva parsha.  If and when he wants to read the Torah portion at a later time in life, the opportunity will wait for him.
As parents it can be a challenge to recognize when your child needs an encouraging push and when that push is too far beyond his comfort zone.   Sometimes your ego can get in the way and blur the lines.  In this case we recognized the line and discussed with ds what would make his bar mitzva special and meaningful for him.  He chose to do extra learning of mishnayos and learned the laws of tefillin in depth in addition to what he was already doing.
How do you celebrate when a bar mitzva boy doesn't take an active role in the prayer service?
On the day of his actual birthday, dh went with all of our boys and visiting male friends and family members to the Kotel (Western Wall) for the morning prayer service.
This was followed by a dairy brunch in our home.  We initially planned to have this at a restaurant but ds said he preferred it at our home.  It was a great choice on his part since it ended up being more personal, abundant and enjoyable for everyone of every age.
After everyone ate, we went around the room and each person shared something they appreciated about ds13.  This is something we do on every birthday but for the bar mitzva it was more extensive and the older kids each spoke a few minutes about their younger brother.  Almost everyone shared about his good heart, his humility, and his comfort with who he is without a need to impress others.
I spoke last and talked about some of his special qualities that hadn't yet been touched on – qualities like thinking and feeling deeply, persistence and courage in sticking through difficult situations.  I got teary eyed talking about this and afterwards the kids told me that most of the people in the room were as well.  (Even an 11 year old guest later said he went out to the porch at this point so he wouldn't cry.)
Later that day he went to shul where the rabbi and some other men and family members danced with him.
The following morning he was called up to make a blessing on the Torah in shul.
We opted to skip a kiddush on Shabbos since it would highlight what he didn't do rather than what he did do.  Since we're new here and don't yet know many people, having a large meal for local friends wasn't necessary.  Instead, we had a special Shabbos spent with extended family members joining us for the entire weekend in honor of ds.
I wasn't going to share the picture we took right before Shabbos since the camera was held at an angle and it caused a misrepresentation of our heights.  But then I thought you might  appreciate seeing it anyway.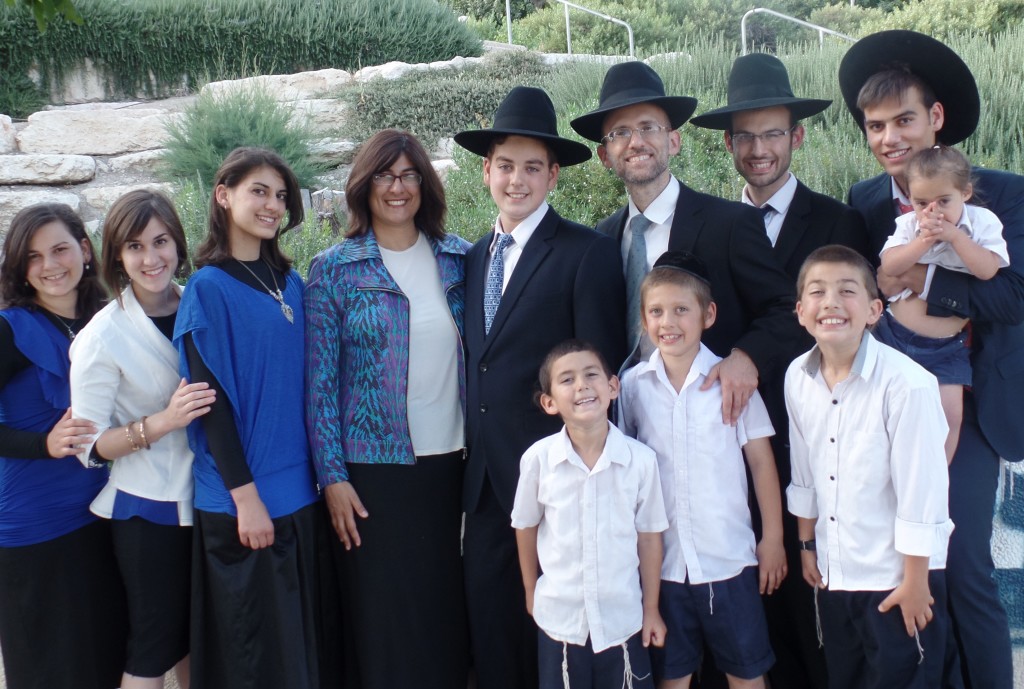 It has been such a deeply meaningful experience for me as a parent to watch ds13 emerge into the wonderful young man he is.  The maturation process is amazing to watch; when given time, acceptance and support – and our belief in them – our children will amaze us with the people they become.
Avivah