Our kitchen is progressing!
We did things incrementally rather than rip everything out at once to minimize the disruption to our lives.
First we took down the top cabinets and put up the new top cabinets.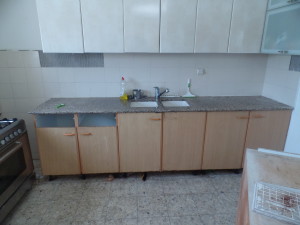 Then was the biggest part- pulling out the rest of the kitchen, which meant pulling out the sinks.  It's inconvenient not having a sink in the kitchen and initially this felt like a very huge disruption to my life.  Then I thought about how for generations people had to go to the river to gather water, or at the least pull it up in buckets from the well, and it put the discomfort of having to walk the extra thirty seconds to the bathroom to wash dishes in the bathtub into perspective.
Once they were out, I told ds7 and ds9 they could take down the tiles on the lower part of the wall before we put in the new bottom cabinets.  They very assiduously agreed to that.
As I did in my last two kitchen renovations, I'm using pre-loved cabinets!  The first time I did this was in 2008 – I bought a set of cabinets that had cost $20,000 ten years earlier, for just $750 – and that price also included the stainless steel sinks, exhaust hood, and washing machine.  They had been very lightly used by the 90 year old seller and his 80 year old wife, and were wonderful quality.  (More details of that here – how to cheaply renovate your kitchen.)
The second time I did this was two years ago.  At that time, a friend who is a real estate agent and knew I wanted to buy second hand kitchen cabinets was in the middle of a disagreement between the seller and buyer of an apartment that threatened to ruin the entire deal.  The buyer insisted they wanted the kitchen taken out before they completed the sale, the sellers refused.  She gave me a call and asked if I wanted free kitchen cabinets.  Win-win-win!  Everyone was happy when I said yes.
Round three and I'm once again doing the same thing.  But this time my  decision to install used kitchen cabinets has attracted much more attention than ever before (this is what happens when your neighbors can see onto your porch and want to know what you're doing :)).
Why would I buy used cabinets instead of new?  Very simply, because I like quality items that are strong and made to last, and by buying used I can get the quality I want at a price I can afford.  (The carpenter who installed the top cabinets for us told us he couldn't understand why anyone would want to sell something of this quality and in this condition.)  If I were buying cabinets new, I'd have to spend a bundle of money to get even the most basic cabinets in the quantities that I wanted and with the heavy use of our family, it's likely they would begin to show signs of wear soon.
How did I find used kitchen cabinets?  I know it sounds like an obscure thing to buy used, but people advertise these for sale online when they're renovating their kitchens.  I've seen kitchens ranging from never used to twenty years old, with price tags averaging from 2500 to 25,000 shekels.
I bought a large kitchen set that included cabinets, two sinks and a large pantry.  The price included the marble countertops but I didn't take them even though they were top quality granite and I loved the color, since I spoke with professionals who work with marble and realized it would be impossible to refabricate it to match the dimensions of our kitchen.
When I went to take a look at this kitchen I was pleased to see the cabinets were extremely well-made (the owner purchased the home from a very wealthy family who installed the kitchen).  My hesitation initially was that in the pictures I saw, it looked like there weren't many drawers at the bottom and I strongly prefer drawers.  Imagine my delight when the owner opened the cabinets and I saw that  every single bottom cabinet except one had pull out shelves/drawers!
It's definitely more work to install used cabinets.  These cabinets were much more complicated to use than any cabinets I've worked with before.  Very few of them were standard sized, they varied in depth and height, a number of them had features that meant they could only be use in a particular position and of course, they were customized to the measurements of someone else's very different kitchen layout.  The trick with used cabinets is to figure out how to fit them smoothly into your kitchen and I really squeezed my head over this!  It took hours and it's been a relief to see it all coming together.
The other thing about buying used cabinets is that you become the general contractor.  You need to think about what needs to be done, how it should be done, in what order, and bring in people who can do what you can't/don't want to do. There are a lot of details involved but I enjoy this kind of thing so I don't think of it as difficult.
Here are some pictures of the progress.
On Wednesday, measurements were taken for the countertops.   I hope they'll be installed together with the sinks on Monday or Tuesday.
I still have some cosmetic things left to do – retile the backsplash, buy laminate to cover the outer sides of the cabinets and cover the toekicks.  Once the sinks are in, I need to have some plumbing work done and hopefully it won't be long before we have a fully functioning kitchen!
Avivah