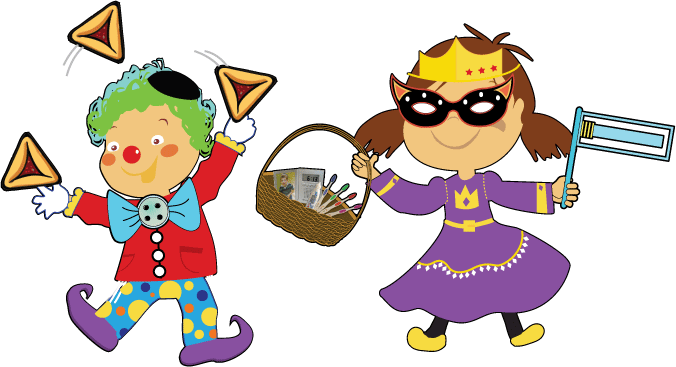 There was a knock at the door tonight, and when I went to open it I was surprised to see dd17 standing there!  We weren't expecting her home until tomorrow night and everyone immediately clustered around her and clamored for her attention.  They do this to ds20 when he comes home, too, and I always wonder if it's overwhelming for the older kids to have so many people excited to see them and trying to get their attention at one time.
Dd did some shopping in Jerusalem for me for mishloach manos and after she finished showing me what she got, she said: "When I spoke to you on the phone I got the impression you're not in a Purim mood so I made a list of projects/activities I'm going to do with the kids to make it feel  more like Purim."  She's right that my mind has been somewhere else and right now she, dd13 and ds12 are starting to decorate the house.
It's true that in past years I've been much more invested in preparing for Purim, but lest you think I've been totally out of it, I'll reassure you!  I got the four younger boys costumes organized a few weeks ago (still haven't come up with anything for Yirmiyahu).
We invited another large family, my mother and her husband, and another friend about my mom's age for the Purim seuda, so we should have about 23 people.  Tonight I wrote out a menu plan and spoke to both my mom and my friend to decide who would make what.  I'm making challah, soup, chicken, roast potatoes, tomato salad and coconut cake, my friend is bringing another salad, side and dessert, and my mom is bringing a chicken and dessert.  We'll borrow another folding table from my friend and some more chairs since we only have enough for 18 people.  It's nice to have that planned.
Yesterday we did a marathon hamantaschen baking session!  Ds4, ds6, ds7 and ds11 were busy for a long time making hamantaschen yesterday afternoon – we did a standard simple cookie dough with mixed berry jam for the filling.  Then later in the evening, ds11 and dd13 stayed up late to make another huge recipe – they made berry and orange hamantaschen and they look gorgeous!  They look like they're from the bakery and they were sure to present me with some freshly baked hamantaschen to taste so I can say from firsthand experience that they are delicious!
Now tonight they want to make yet another large batch since we have a problem of the hamantaschen getting eaten….the kids are planning to include some hamantaschen in their personal mishloach manos to their friends so they'll need some more.  Well, honestly they have enough but they want to make more so they're saying they need more.  Last night they were up until 1 am and that made for a late wake up for them so I told them tonight it's got to begin earlier.  Since it's after 10 pm my time as I write this, I don't think it's going to happen until tomorrow!
Speaking of tomorrow, I'll be taking Yirmiyahu for some doctor visits in Haifa.  I need to get an EKG and then a heart ultrasound (sorry, forgetting the technical term), then a kidney ultrasound.  I'm so glad I was able to get them both done in the same city this time, in the same medical complex.  I'll need to get a bus at 6 am-ish and hope to be home by 2 pm; and hopefully all the results will be clear and this won't need to be monitored for at least another six months.
I suppose sometime after that I'll make a definite plan regarding our family mishloach manos – right now I'm leaning towards baking some kind of yeast cakes (probably cinammon or chocolate buns) and then attaching a small packaged treat as the second item.
So our  plans are coming together and I'm sure when I wake up in the morning and see the house decorated, we'll all feel Purim is in the air!
Avivah