Last year I decided to join the twentieth century and got a cell phone.  Yes, I realize I'm about twenty years behind everyone else.

 I resisted because I didn't want to be on call all the time and try to limit my usage of technology because of my concerns about how it's encroaching on our lives societally.
Anyway, the time had come that I needed unlimited long distance calling and I could get that affordably with a particular cell phone plan.  I was given a choice of a kosher or non-kosher line (a kosher phone is one that can't access the internet) and chose a kosher phone.  I have no need for anything more than the most basic phone so this worked for me.
Fast forward a year and we moved to Ramat Beit Shemesh.  When we got here, I had terrible reception with my cell phone provider. After two months of not being able to make it work, we were happy to finally find another cell phone provider that had good coverage in our area and also had an unlimited long distance plan (the most important criteria for me since I call overseas daily).  But it didn't offer a kosher phone option.  It didn't really make a difference to me since I have a simple phone that isn't capable of accessing the internet and don't want anything more, so I got the non-kosher option.
Today dd and I met with a principal of a high school (yet another one!) we're considering and after we finished went down to speak to the secretary to schedule the follow-up interview.  The secretary asked what my phone number was.  I started telling her the number, and she exclaimed, "It's not a kosher number?!"  (There's a one digit difference in numbers that are kosher or not.)
I told her that I had a kosher phone until recently but changed because of a lack of coverage where I lived, at which point I was abruptly cut off and told that of course there's coverage in my area, that it's a big problem that I have a nonkosher phone since parents in that school aren't allowed to have them. (This school has a strict policy on technology usage as they don't want a home environment that conflicts with values and attitudes they want to convey.)
I felt bothered that she was implying I was lying or making excuses or whatever negative thoughts she was having about me, but told her of course I would switch to a kosher phone if that was the school rule but right now this is the number I have.  She responded in a way that felt hostile and judgmental to me.
I left, fuming inside, and by the time I got to the bus stop a two minute walk from the school I was ready to call and cancel the follow up meeting for the next day.  No way would I send my daughter to a school where a secretary spoke to me in that disrespectful way and dared to judge me by the number of my cell phone.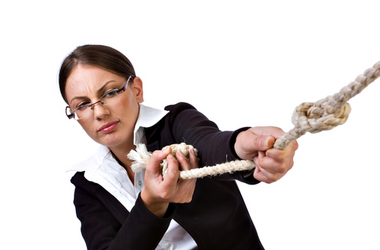 But then I started thinking, what do I stand for and what do I really want?  Is this really a deal breaker or is my ego getting in the way?  I don't have a philosophical issue with having a kosher phone or not since I use the phone the same way regardless.  I knew this school had rules that were more stringent than what I would personally choose but chose to look into it further because in many ways it's the best fit for my daughter.  In some ways it's not.  Every institution is going to have something I don't like about it and the spirit behind the rules is in line with the spirit I try to raise my children with.
But the interaction I had was unpleasant for me.
I thought about this issue and what it represented to me from all angles, and determined that I was letting my ego get the better of me.  I don't know why the secretary reacted as she did rather than politely notify me what the school policy on this was but it was a mistake for me to assume that she was judging me.  It felt that way to me but feelings aren't always facts and it's presumptuous for me to think I know what goes on in someone else's mind.
But I do know what goes on in my own mind.  It's so easy to get stuck in ego and convince ourselves that it's about the principle of the matter!  This is why I had to think so much about this, to clarify what this interaction of less than five minutes was honestly about for me.
You know what?  It wasn't about the cell phone policy.  It was about me being resentful that I was judged unfairly.
Fear of judgment and ego.  A bad combination to make decisions from.
I didn't cancel the next interview, so dd will continue the interview and testing process.  Perhaps she'll be accepted, maybe not.  Maybe she'll be accepted and decide she would rather attend a different school, maybe not.  I'm open to accepting whatever the outcome is, because I'm taking my ego out of the driver's seat of my decision making and leaving the final result up to G-d.
Avivah