Yesterday a very busy mother of four young children who is longing for a break asked me, "How do you make time for yourself?"
I told her, you just have to do it!
So much easier said than done.
For many years, I minimized my need for self-time.  Sure, I would relax with a book or exercise at home with a dvd, but I didn't really go too far beyond that.  Friends who wanted to meet me for coffee would be met instead with my flat response: "I can't do it," "It's not realistic, I've got the kids home all the time."
But do you know what?  I didn't even stop to consider how to make that happen – I could have done it if it was really important to me.  But instead I right away assumed it was impossible. When it came to making time for myself (outside of home), with few exceptions I told myself I didn't need it, that it was too much trouble to find a babysitter, too expensive or exhausting to make arrangements.
Well.
Over the last year I have been actively embracing self-care and it is a pretty darned wonderful thing to expand the ways that I enjoy my life!  After so many years of taking care of someone else and putting my own needs lower down on the list, I'm putting myself right at the top.  And I highly recommend it!
Taking more time for yourself begins with seeing it as an important and valuable use of your time.
This morning I went on a two hour nature outing with a small group of women to a park about a 15 minute walk away.  Later this week I'll be going on a sunrise hike (I love these – this will only be the third one I've done in the last year – I get exercise, social connection, time out in nature and am home by 7 am, without anyone even realizing I was gone!)  Next week I'll be going away for two days and one night to northern Israel for a women's getaway. It sounds kind of decadent, doesn't it?
The morning after the wedding, do you know where I was?  On a hike to a local forest.  When I arrived the organizer looked at me in shock and said, "Even though you said you were coming, I didn't believe you would actually be here!"  I obviously didn't get home very early the night before.

I had a ridiculously full day that day, that included taking dd16 to Jerusalem for her seminary interview in the early afternoon, returning home, then turning right back around with the rest of my family and traveling to Jerusalem for that night's sheva brachos. Does it seem I was making my day too full and stressful by going on a hike in the morning?
I made this commitment to myself before the interview was scheduled, and I decided I would go because it was important to me especially with the busyness of the wedding season to make time for myself.  I would have cancelled my appointment with my daughter and told the seminary administration I would have come a week later before I would have cancelled this time for myself.  Hiking in the woods and later sitting quietly alone for almost a half hour in the forest while the other women continued on a different trail was spiritually and mentally renewing for me.
Honestly, I've had to work through my mixed feelings about all of this.  I've been moving out of my comfort zone in this arena for a while and continue to expand the boundaries of how I nurture myself. Because I did so little self care in this way for so long, sometimes by contrast what I do now feels selfish and self-indulgent.  That's not reality, it's just my mind getting in the way of letting myself feel good about taking care of me.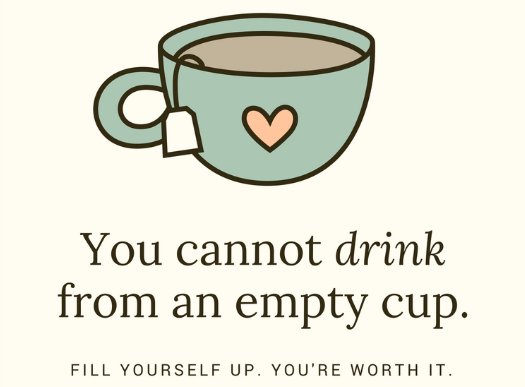 We parents deserve to take time to care for ourselves.  We NEED to take time for ourselves. We are worthy of treating ourselves with kindness and compassion, to create and embrace opportunities to nurture those parts of ourselves that we tend to set aside when the responsibilities of life take up so much space.
When we become parents we don't stop being the people we were until then – and once we hammer that into our own consciousness, we then have a great opportunity to model this lesson for our children.
The more I recharge myself, the more emotionally present I am for myself and for others.  Really.
Can you afford NOT to take time to recharge yourself?  Even if you don't feel you deserve to take time for yourself, wouldn't your children benefit from an energized, upbeat mother who values herself?
Learning to care for and love yourself the way you care for and love your children – the new horizon!
Avivah