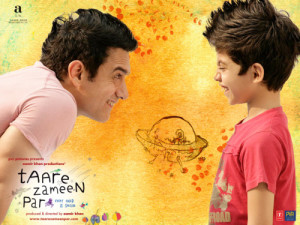 Last night I watched a simply beautiful movie with dd17, dd13 and ds12.
Like Stars on Earth is a movie made in India, about an eight year old boy who has dyslexia.  He also has a creative and artistic mind, which no one is able to appreciate.  All they see is a kid who won't perform to their standards, and his self-esteem becomes more and more battered until he eventually almost totally shuts down.
This is a long movie, 2 hours and 40 minutes long.  It builds steadily as it brings you into the world of the boy and increasingly are able to view things through his eyes.  The version below has been dubbed into English spoken with a Hindi accent, and this sometimes makes understanding exactly what is being said a challenge.
From a parenting perspective, you see what happens when a parent imposes separation as a punishment onto a child, when closeness with a parent becomes too much to bear and something to be avoided.  Since every person has an innate need to attach, the child in this situation – as with any other situation – attaches to someone else who replaces the parent as the primary relationship.  But there's much more to note about these relationships than just that.
One powerful message in the movie is towards the end, when the father tells the teacher that his wife has been reading on the internet about dyslexia, and explains that he wants the teacher to know this because it shows they care about their son.  The teacher replies that love is about accepting someone as he is.
The movie is based on a true story.  I already said it's really long but I found it a worthwhile use of time.  There are so many messages to take away from this film, about learning differences, inclusion, teaching, parenting – each person will take away something else for himself. For me and my kids, I anticipate it will be a reference in conversations about education and other relevant topics for a long time to come.
Avivah